08-31-05

I passed this donation box on my way to the Human Resources building on 10th and Main. At first I thought it was some humorous prank - like those stupid fake tails you see shut in a car trunk. But then the feet moved.
After getting my SIN card taken care of, I decided to walk around the block to see what was around. It was that kind of light misty rain that sends flecks into your eyes making for an uncomfortable walk. A delivery guy in front of an old building asked me how to find apartment twenty, and I reverted into my old Pizza Hut Delivery Self and helped him figure it out. Then I gave up on my walk and headed back to my car.
And this guy was still in the donation box. If I had a cell phone I would have asked if he needed help, then called for help if he wanted it. But I didn't have a cell phone and realized I would be walking around trying to get someone else to call. So instead I just kept walking. I hope someone helped him. It's a pretty busy corner.
• link

08-29-05

I don't work tomorrow, so hopefully by the end of the day I'll know if I qualify for parental leave soon, or if we have to wait. I'll also know if pregnancy is considered a pre-existing condition or not. And I have another eleven or so questions. I need to know that we do this right, even if it is on the government's schedule. So all y'all just sit tight.
Tonight and tomorrow we are rearranging the living room so our table can finally fit in this apartment. I just can't live without it. I can't. It holds dinners and Settlers, so it's just plain required. And we think we figured out a way to make it all fit. Stay tuned.
Anyone want the last bite of my fried egg sandwich?
• link

08-28-05
Dear Everyone,
I sent out a gazillion e-mails with our new home address, but I put down the wrong postal code. It starts with V6R, not V8R. Please change. Thanks.
• link

08-27-05
I had a most lovely birthday, thank you

We had a nice, lazy day which included walking around Locarno Beach and eating at the cafe at the yacht club, then loafing around the house, then having dinner at Fetz with friends. Danica & Brendan were there but they left before we took this picture. We also walked down to Turks after dinner for some fantastic chai teas.
Yael & Birgitte and Tina are all new friends from my immigration e-mail list. There are about five others that I still haven't met - but I will!
Thanks to everyone for their comments and e-mails and phone calls.
More pictures from my lovely day, including some neighborhood pictures, on Flickr.

Two other things, though.
One? This is Mica, the office dog. She's precious - so calm and happy. She's part Doberman, part Beagle, and she's a shelter dog. I'm so excited! We also have a German neighbor who got a golden retriever puppy, and I think I'm gonna ask if I can take him for walks sometimes. His name is Chello, although I'm not sure of the spelling.
Two? Seattle Bloggers, please somebody do this! Today in Vancouver it was Zombie Walk. This chick had one in Toronto and like 20 people showed up, so she did another one in Vancouver and two hundred showed up. A crapload of people dressed up as zombies, then hopped on the SkyTrain (can you picture this?!?), then they hit Main Street, with a police escort, as they paraded along Main Street basically making other innocent bystanders into zombies (people were there with make-up for those who wanted to become zombies). And just like the movies, the zombies would all press against shop windows and restaurants smearing their bloody faces against the windows, to the shock and horror of shoppers who didn't know it was Zombie Walk. Next Zombie Walk is rumored to be all day this Halloween, in multiple locations. HILARIOUS. Like Thriller in the streets!


Good Girl.
• link

08-25-05
First Day of Work
Note to self: dress cooler. I was sweating by the time I got to my bus stop at 9 a.m. Then, to make things more... fun... I walked over to Staples a few blocks away to get started on a brand-spanking new filing system, which required hanging folders, folders, some supplies, and a big bin to put all the files into. Which required me to carry these items back to the office. So if you saw some poor woman wearing all black and long sleeves walking down Broadway this morning with a full filing bin and three huge shopping bags, and you thought "is she crazy?" uh, yeah. That was me.
It was a great day and I look forward to tomorrow. It's very exciting being someone's first official employee. And I know a lot of you have been asking me for details about my job, but I'm still laying low, for a while. Stay tuned.
This Saturday is my 35th birthday, so I'm having some friends meet us at Fets for dinner. Kinda weird having a party when I'm still getting settled, but there are plenty of people here that I look forward to spending the evening with. Sean's family (here in Vancouver) are all going to Vegas this weekend for cousin Roxanne's wedding but the timing was just too crazy so we couldn't go. Which sucks because my Dad has an apartment in Vegas so all we had to do was get down there, and it still didn't work out.
We are finishing the kitchen shelves this weekend as well, which should free up a lot of floor space around here (yes, we have stuff sitting on the floor). Sandi came over last night and we cranked out some good work on the remaining boxes. I now have seven boxes ready to be donated. And I feel really stupid for moving this stuff here.
Tonight, for the second time, I couldn't figure out how to unlock my shopping cart (they lock them here) and I had to ask someone for help. So he showed me where to put the quarter and started to walk away, and I said "Um, then what?" and he looked at me and I said "I'm an American" and he nodded and walked back over and helped me. He didn't speak much English, but he got that one.
Amy sent out some scans from the wedding - so I'll leave you with this one: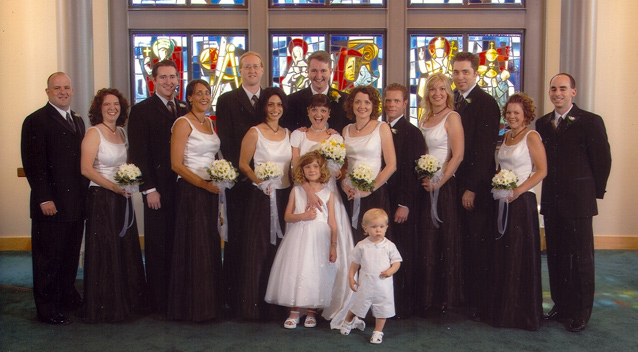 • link

08-23-05
Wet Cat
Yesterday Hobbes came home soaking wet. We are letting the cats outside now, by the way. When he came home all wet we figured he got caught in a sprinkler somewhere and toweled him off and he purred.
Today I could hear the neighbors running the sprinkler in the front yard, and I called for Hobbes, and sure enough he came running down the stairs from the front yard. Soaking wet. And trying to rub against my legs. And I remembered, in Palm Desert we had an enclosed back yard, and Sean and I would spend tons of time watching Hobbes attack the sprinkler. It was fabulous entertainment.
So I turned our sprinkler on.

He stalks his prey. And it's the rotating kind that goes back and forth, and I tell ya, for about twenty minutes I ran the sprinkler and he never did figure out the pattern. And once in a while he would run over to me to rub against my legs, then he'd head back out to the enemy to take him on again. He'd stick his paws in the stream and sometimes he'd even try to bite it. It was hilarious.
Today I also visited my office and took a few pictures and talked to my new bosses. I go in again tomorrow afternoon, then start my first official full day Thursday.
I'm really excited!
| | |
| --- | --- |
| The deck!! | The building |
Turns out that the office building was built by Arthur Erickson! More pictures on Flickr.
• link

08-22-05
I've been to the IKEA in Richmond three times in the last four days.
We now have shelves in the dining area, guest room, and our room, plus a table made from leftover parts below the window in the guest room. The problem now is unpacking and loading everything on. Which is taking much longer than anticipated. Stuff that was without-a-doubt worth keeping is suddenly silly and awful and doesn't deserve to be unpacked. So I packed it back up. But then I realized, if it doesn't deserve to be unpacked, then why pack it again? It needs to be donated somewhere. Which leaves me with the whole new task of dividing what I unpack into two-and-a-half choices: Unpack and display (find a permanent place for it), donate it, or store it. "Store it" is a half-choice, because I have nowhere to keep packed stuff. My whole house is surrounded by packed boxes that I don't want to unpack. Which tells you how much stuff I have that I don't even use. Ever. Now I need to find a place to put all those packed boxes. And my first choice is out.

| | |
| --- | --- |
| Sean building the shelves | Dining room shelves (still working on filling them) |
Noah & Monica were our first official visitors! They stopped by this afternoon on their way back from Whistler, where Monica officiated a wedding. We talked about the funky layout of the house, then took a small walk through our neighborhood, then we had dinner. It was great to see them. I hope my house is more unpacked next time!
I need supervision. I need someone to come here and force to me to get this place into shape. It's so overwhelming, I just keep avoiding it. I also still don't know what bin is recycling and which is garbage. We've been here a week now.
So let's all continue to avoid things and enjoy Airbourne Cats (thanks, Samantha!)
• link

08-20-05
I know, I know
This weekend we were busy working around this apartment trying to make it more "home". We're getting there.
I'll have more with pictures tomorrow.
HAPPY BIRTHDAY, DAD!
• link

08-18-05
Okay!
I asked David (one of my new bosses) is I was allowed to write about work. I just really really don't want to mess anything up, so I had to be sure I could blog about work. You never know, some companies are iffy with that stuff.
And he said it was fine, so....
MAN this place. It's on the south side of the water from downtown Van - they are on the sixth level of this wicked wood and metal building that has a huge deck that runs along the back of it with an amazing view of downtown. It's a loft - concrete floors, a full (black!) kitchen, and the offices are up in the loft. The dining area with the conference table is along the back wall against a floor-to-ceiling window. They are a design firm - websites, branding, logos, brochures, and website hosting as well. They want me to be an admin for that stuff, but they're also going to train me in some design stuff! I'M GONNA LEARN THE COOL STUFF!! It's part-time until the end of September or early October, then I'll be full-time. Which is excellent timing for me to continue to settle here. Once I'm comfortable there I'll link to the company website. But trust me. Cool stuff!
Now on to the important part of the job - on top of the job description that made me swoon:
1. They have an office dog!!! I haven't met her yet but I'm told she's super friendly and I can take her for walks if I want.
2. Potluck Tuesdays. Hellooooooooooooo.
3. Beer Fridays every Friday after work - spouses/significant others included.
(The conversation went like this:
Them: "Drinks every Friday..."
Me: "I don't drink"
Them: "You can make the drinks!"
Me: "Oooh!")
4. Super cool people that work there, which made me immediately think "I could hang out with these guys". Which is a great feeling to have in a job interview.
5. Did I mention the loft office? And the deck? With the BBQ grill and patio tables? Did I mention the elevator that's decorated like a sub? When the doors close, the lights go out and you watch where you're going via a port hole. LIKE DISNEYLAND.
COINCIDENTAL SIDENOTE! The night before I found out I got the job (my dudes - I was in constant communication with these guys from the second I walked away from them) I was in the parking lot of Home Depot while Sean was getting stuff for his desk that he's building. Well we were in Danica's neighborhood, so I thought I'd call her to find out where we should eat dinner around there. Two months ago Andrea gave me her old cell phone so we could set up a Vancouver number before moving up here. So here I am with Andrea's old phone scrolling through her contacts to find Danica and I see "Dario". And I think, "Hmmm... that's weird. I was interviewed by David and Dario. Is Dario a popular name? Mental note." Then Danica sent us to The Whip (Thanks! Yummy!).
ANYHOO the next day I got the job and I asked Andrea "Who's Dario?" and she got really surprised and asked "Why?" and I said "Just tell me Dario's last name" and she said his last name. The Dario that interviewed me. And I said "I WORK FOR HIM NOW!!" Turns out Andrea worked with Dario in 2000 at a web company and they're still friends - they just had lunch last week.
Isn't that a weird coincidence?
I think it's karmic. She thinks I'm going to LOVE working there.
Awesome.
• link
P.S. Jon - while shopping for a book for Sean with Yael, I remembered your post about this book being so good you actually got off the train and stood on the platform for a while just so you could keep reading it. And he just finished the last book you bought him and loved it (and recounted the whole dang story to me). So I bought it for him. Thanks!

08-17-05
My DUDES. NICE WORK!
I GOT THE JOB!!!!!!!!!!!
• link

08-16-05
Thank you.

First of all, a huge shout out to our friends that helped us load up: Jeff, Manuel, Jen & Roth, and Rachel. Also special thanks to our neighbor Sylvia, who saw that I was panicking about our fish being inside the coolers too long, so she offered to clean our house for us after we left. Thanks, you guys. It was a super muggy hot day and Jeff and Manuel walked away with nothing but three beers. And they stayed the whole day.
Do you see those little white marks behind Jeff? That's the spongy double-sided tape from those cork squares. DON'T EVER USE THAT STUFF. Sean and I probably spent about 4 hours on that wall between us. We tried sanding, razor blades, mudding knives, goo remover, scrubby sponges... trip after trip to Lowe's and Fred Meyer. And in the end? I just apologized to the landlords. We ran out of time to keep scrubbing. It looks awful.
As the day got hotter and my house got emptier, I fell into shock, I guess. It was a sadness that was too hard to cry out. Yeah it was just a little house that wasn't amazing to anyone but ME. But it was MINE. And I could have happily lived there for many, many more years. We had big plans for that house. And I walked away with those plans.
We soon realized that the dining table had to go into the truck fairly early, which caused some trouble, as the fish tank is on that table, and I didn't want the fish in the coolers any longer than necessary. But alas, they went into the coolers at noon. They tried to jump out. It was stressful.
See those two coolers on the left? That's the fish. Just sitting there. In coolers. And it's upper 80's and HOT in the house. And they just sat there for HOURS before they even got loaded into the TRUNK of my Honda with no air conditioning.
Once the truck was loaded we returned our rental pick-up truck that we used to make two more dumps runs. That's FOUR DUMP RUNS in one month, folks. And looking around now, I think we should have made a couple more. We dumped our whole king-sized bed and some junky furniture that we had in the garage, plus tons of stuff was donated too. I can't believe how much stuff we had.
At 3:30 we were finally ready to go. It was really hard saying goodbye, especially to Sylvia. Sylvia & George and Ross & Eleanor were the best neighbors we could hope for. When we were up in Vancouver looking for a home, George was giving Jalen his nightly insulin shots. They always housesat for us when needed.
We got the coolers loaded into my car and started the battery-operated air pumps. The cats were piled in the front of the car with me, and we headed up for a hot, crazy drive. The cats YELLED. Jalen stayed curled up on my lap, thankfully. I couldn't open the windows too much in case the cats jumped out.
I got to the border about 20 minutes before Sean and pulled into a shade and opened the trunk so the tanks could cool off. I was seriously paranoid that the water in the coolers was 90 degrees. I didn't dare open the lids.
Once Sean arrived we went inside and they stamped all my paperwork and never even looked at the truck. Sean complained that the truck was a rough ride, and I was like "DUDE I HAVE A CAR FULL OF ANIMALS." After the border we hit Sunday afternoon traffic and every time I came to a stop I shouted my apologies to the coolers. I could hear the water sloshing around - it musta been a wild ride.
Shane, Kate, Uncle Pete, Colum, Debra, and Dave were here to help unload and it was bizarrely hot and muggy. We were sweating buckets. Deb & Dave brought beer and water and cups and I love them.
Travis and Laura showed up to help get the last of the stuff out of the truck and move some heavy stuff in. I was SO antsy to get the tank set up, but it had to wait until we got the white table out of the truck, so the fish, in the coolers, sat on the patio in the heat for another hour. I still hadn't opened the lids since we packed them at noon. It was 8:00 when we could finally set up the tank.
When Sean opened the coolers, I looked away. They were alive but seriously stressed. The bala shark and the plecostomas, the two largest in our tank, were the worst. The bala had lost his shine and color - so he was practically see-through, and he also had pop-eye, which isn't a pretty sight. It means his eyes were literally popping out of his head. And he was PISSED. The plecostomas was cream speckled instead of his usual dark brown, and he looked like he was... peeling, and sadly, he wasn't pissed - he was LISTLESS. Oh MAN, that was a rough sight. I was expecting to find floating fish the next morning.

Late that night we fed them and turned off the light. It was all we could do.
Once we had the truck completely unloaded everyone took off and I suddenly had a little apartment with 5000 boxes and WAY too much furniture. Which meant that it was time to go out for dinner, since we forgot to have lunch. We found a great Irish Pub right by our house and it was really good!
After we got home, we found just enough stuff to take a shower and go to bed. But then Sean prioritized and found the toaster, the DVD player, and his DVD's, and by tradition, he made toast with peanut butter and
watched an episode of Star Trek the Next Generation in bed. The Legend lives on.

The next day I let the cats out to establish their boundaries, which they tested, of course. We bought a few groceries and two wireless cards to get on the internet, which set us back $160, but it was necessary. My assignment for today is to find a cheap queen-size mattress, as the full futon mattress on the floor results in a stacked heap of humans and cats.
Still no news on the job front, but it doesn't help that we have no cell phone reception from our house, and no land line phone, so once a day we drive into town to check voicemails. And Sean keeps the phone with him during the day, as he's working again (doing construction with Shane).
The bala shark and the plecostomas look great - not completely themselves but enough for me to believe that they won't die.
I have a hundred other things to write, but I need to get some other stuff done. Like, um, unpack.
More on Flickr.
• link

Previous August Entries