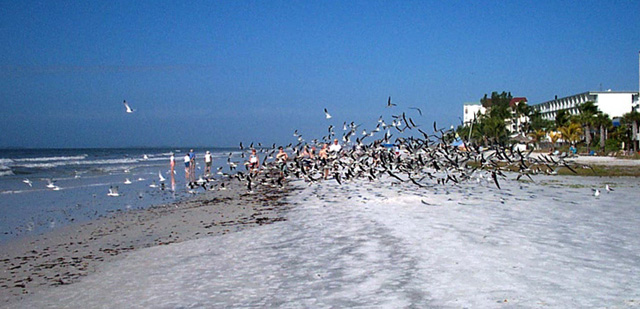 (Child Labor)

My goal for today was to take the huge mound that Jamey created, and change it into a cool living room/stadium seating theater, for us to settle in to for the New Year's fireworks. The teamwork was impressive. The Rouch kids already bought four shovels a few days earlier, and once we started working on it, everyone joined in. It took quite a bit of work, mostly because I was trying to create a triple-decker seating area with sand, so we needed tons of water to pack it into place - and stay in place. (Meaning: do not try this unless you have about 20 employees and loads of water) My architecture friends would have been proud of us. The chairs had armrests with cup holders, and the lower level seating had ottomans. It had stairs on the side and a ramp along the back. Seating included individual chairs, love seats, chaise lounges on the sides, and a round couch in the center. I even planted a flower in the top wall.
We took some pictures and then rushed over to Dad's for Happy Hour. It was getting windy. Really windy.
| | |
| --- | --- |
| | |
| More labor | What's the plan? |
| | |
| --- | --- |
| | Do you see my flower? |
| | |
| --- | --- |
| | |
| Ben & Eugenio | Aunt Nancy & Sean |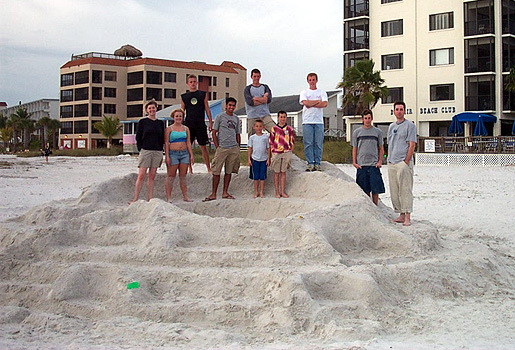 A lot more people joined in the picture, but I don't have the shot on my camera.... anyone out there willing to send me a picture that includes Todd and Grandma & Grandpa? Thanks....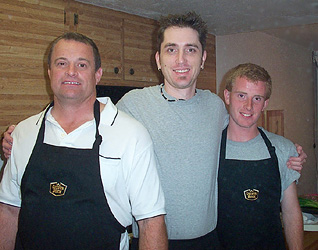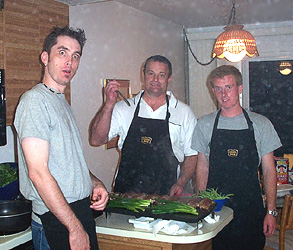 Men cooking dinner. (I think that's duck oil floating in the air)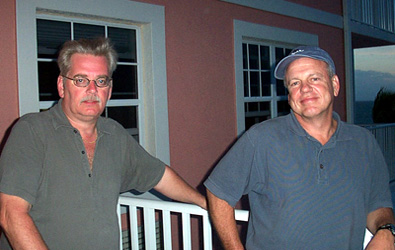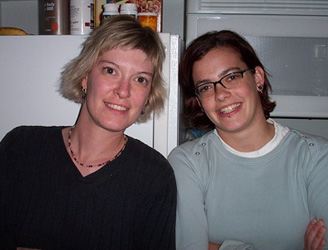 Dad's friend from school (Bart Culver - see barts.com) came to visit with Cinda and his daughter Audim. They have a house in Ft. Myers as well. I haven't seen Audi since she was in elementary school. Todd once saw Audi at school (IU) and thought she was me. It was so cool that they showed up - I didn't even know that they lived there!
We were also visited by my third cousin Jamin and his wife Christianne and her family from Brazil. Eugenio got to talk to them for a little while, which was cool (Eugenio is our Brazilian foreign exchange cousin this year).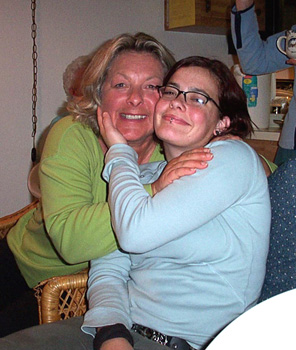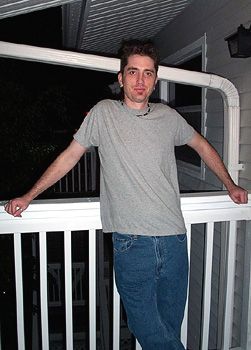 My Grandpa is going blind, so usually I say "Grandpa! There's a camera pointed at you!" And he makes some sort of reaction like this.
After New Year's Eve dinner, we had three tables of euchre going. Euchre is a mid-westerner card game that has teams and.... the rest is difficult to explain. Just know that Uncle Keith always wins, and if you turn down a bower you lose for an hour.
All evening we were paying attention to the weather channel, because there was an impending storm and the wind was really kicking. We just wanted everything to hang on until the fireworks at midnight. Plus Uncle Steve brought a package of fireworks for us.
It was pretty obvious that we weren't going to make it to midnight without any rain. We spent half the day making that couch. Jamey and Dylan spent ALL day making that couch. But maybe if it just sprinkled, it would "set" the sand better, and it wouldn't be destroyed.
Yeah.
We headed out after cards to set off some fireworks. It wasn't easy to light them due to the hurricane winds, so they lit fireworks with fireworks, because we tend to do things like that. Ben ended up with a burned head but it was a good show. Nancy and I swaddled ourselves and sat on that sand couch and watched.
....until we were interrupted by the police in yellow raincoats, who told us to get indoors immediately. Some of the island was being evacuated? Someone heard that, I dunno. We just had to go inside.
That's Ben's burned head to the left. Not very easy to see, but it was, in fact, burned in a few spots.
The wind was blowing the rain sideways at an impressive clip. Nancy, Steve, Sean, and I headed to the pier anyway, and ran into the boys on the way. The boys managed to hook up with a set of hotties from Kentucky - they each had a girl under their arm. The pier was surprisingly jumping, considering the weather. They had beer gardens all along the square, and we sat and people watched for a while. Since the storm was getting worse, they started the fireworks at 11:45, just as we were walking back out onto the beach.
| | |
| --- | --- |
| As the rain pummeled us, the fireworks were a 5 minute encore set. We were standing right below it (and dodging chunks of still-burning debris). The fireworks show was fascinating, and they ended just in time. I could hardly hold my eyes open anymore because the raindrops were pelting my eyeballs. We walked along the beach past couples making out, and crowds of kids popping champagne chanting "Chug! Chug!" By the time we got back to our building, it was like a tropical storm. We were completely soaked but it was so exciting. Sean and I grabbed some towels and laughed and talked about the fireworks, then Sean took this picture of us. We realized it was midnight and we hadn't noticed. Laura and her friend stopped by our place, and we spied the boys with their hotties across the building. The sky was fully lit when lightning struck. It was a fabulous New Year's Eve. | |
| | |