So I had this horrible layover scheduled in Orlando for EIGHT HOURS and Delta said I could call within three hours of a 6:50 a.m. flight to try to reserve a seat. Meaning I had to call at 3:50. Meaning I made my cousins stay up all night with me.
At 3:50 they said the flight was booked, but there was another flight that I could try for at 8:15, so if I call back at 5:15 I could try for that. At which point Laura gave up.
Around 4 a.m. the boys and I walked to 7-11 and I fried up a batch of eggs. Soon after the eggs were eaten, we lost Todd for the night. Which isn't bad considering he had been drinking since about noon.
Ben tried his best, but passed out around 5 a.m.
Turns out that the 8:15 flight was full as well, so I was left with my original flight scheduled for 9:30. I wasn't about to try to take a one hour nap so I stayed up watching Pretty In Pink.
But consider that the night before was the infamous "Beach Slumber Party" so I was well beyond tired by now. And I can't sleep well on airplanes.
I called Dad around 7:30 to wake him up so he could take me to the airport, and I woke up Todd and Ben to help me carry down my suitcases. They barely kept their eyes open. And I don't blame them.
I was stuck with the 8 hour layover in Orlando, but it wasn't that bad.
I started knitting my socks, wandered around the airport multiple times (they have as many shops as a mall!), and found a cozy spot to hang out for the remainder of my time there. The flights were gloriously uneventful, and the children sitting next to me were watching Finding Nemo on their portable DVD player, so I had that going for me.
Once home, I immediately got to work on editing my 500 pictures, and as soon as I thought I was ready to "go live," I received a package in the mail from Uncle Tim - with two more CD's full of images from him, Laura, and Aunt Nancy.
The following pages are pictures from them!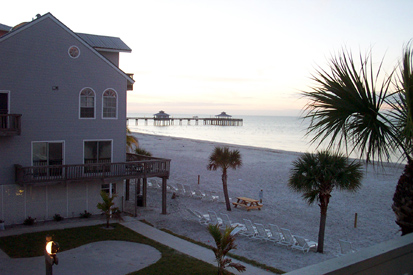 My last morning with this view for another year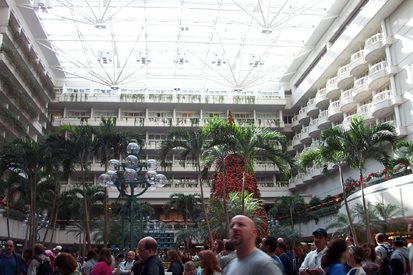 The beautiful Orlando airport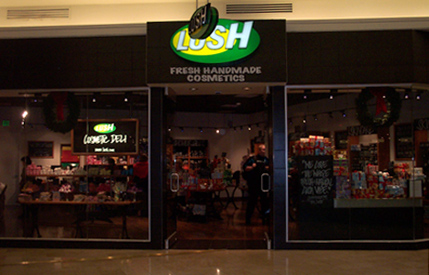 Lush! In the airport! Heaven!
| | |
| --- | --- |
| She asked me my name. Twice. | |