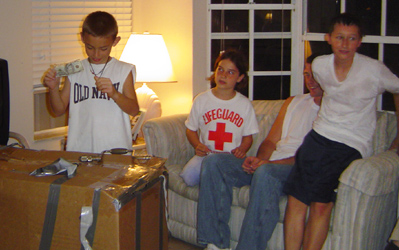 That's right - Jamey wrapped Dylan in a box, hauled him up the stairs and into Herb & Karyn's condo, and there he stayed for an hour and fifteen minutes, silently waiting, drenched in sweat, for someone to open "the big one."
Lukas was feeling pretty ripped off, as Dylan was his brother, so actually he already had Dylan, but then Dylan handed Lukie a ten dollar bill and all was well again.
I tell ya, Dylan earned his stripes with the cousins that night.
He is now a man in our eyes.