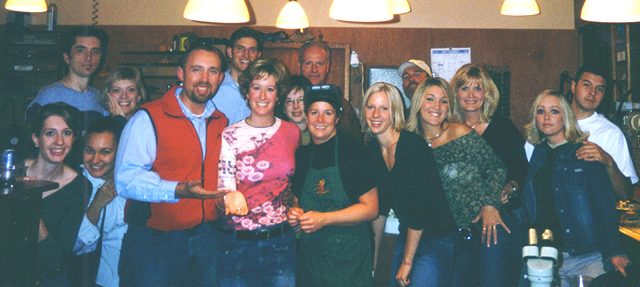 The Ring Casters

Chris knew he wanted an original ring - after seeing the rings offered at the numerous stores he had been to. While enjoying a day at Pike Market, Chris and Truly stumbled upon the Gold Mine - a custom ring shop. Chris noticed a style he found intriguing with a sandblasted groove throughout and went inside to inquire.
Many, many visits later, after consulting maps and guidebooks, the perfect mold was completed - a groove in the wedding ring which has the shape of the coast where they will be married in Hawaii! Truly's ring will have the same groove filled with tiny diamonds. Chris' ring is a bit more detailed - it has three rivers and a small sapphire displaying the exact spot where they will exchange their vows.
The Gold Mine has a Ring Casting Party for couples, where they actually make each other's rings once the molds are completed and ready to be filled. Sean and I were honored to attend with their friends and family on-hand....