This is for IKEA, who requested that I take pictures as proof that they had not completed their assembly work, as two phone calls were not proof enough.
Although Malissa in Work IKEA stated that she knows the last assembler like a brother, and he looked her in the eye and told her he completed the work, we at Johnston Architects do hope that these pictures will get this final order completed and assembled properly.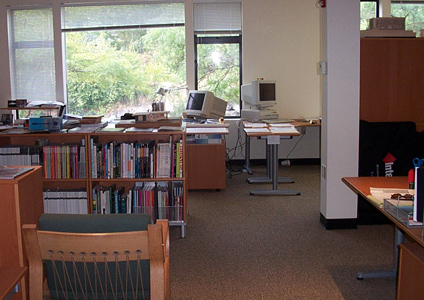 The office where the table in question sits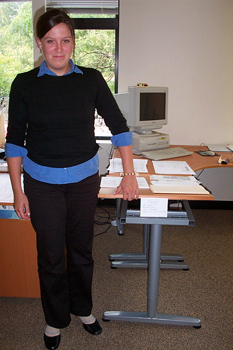 Our marketing assistant, Caitlin, lifting the table top from the base, as it's not attached

End caps are missing, and they are not laying around anywhere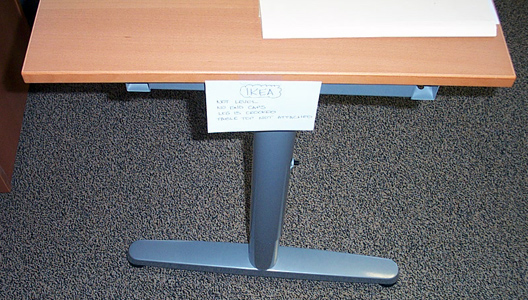 Legs were attached to the base a couple of visits ago, but they are uneven.
The leg on the left twists out.
Also note, although it's difficult to show, the level of the table top is uneven.
Perhaps this will fix itself when the table top is screwed into the base.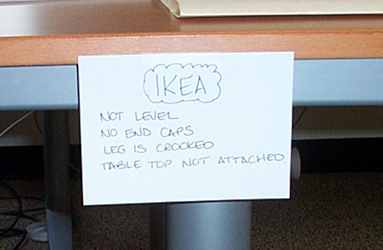 The note attached to the table top clearly stating what is needed for the table
to be completely assembled.

I checked our invoices, and the last purchase date I could find for tables was May 27, 2004. I believe we've had assemblers here three times, maybe four, since that time.
About four visits ago, I had to call IKEA and remind them that, upon the assemblers' next visit, they need to dispose of the packing garbage, as they had thrown it onto our deck and left it there. I forgot to take a picture, but there's still a box out there. But they did take the majority of it away.

We have had a very difficult time furnishing our office expansion, as IKEA products have changed or been discontinued, or products are not in stock for months, and much of our furnishings no longer match. It makes it more frustrating when assemblers show up a week later and do not have all of the items needed to assemble the furniture, and when I call, I'm told that they can't schedule another assembler for five days.

I hope you can take a look at our past invoices and see how many assembly visits were scheduled, and how many extra visits were required, and how much time has gone by since these orders, and I hope that changes will be made to our account balance.

Thank you.