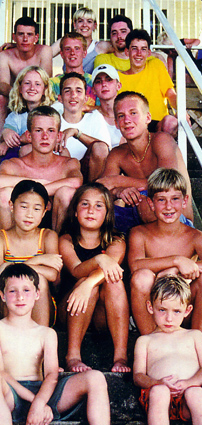 Pictured above in 1999:
Jamey, Me, Sean
Joel, Ben
Laura, Todd, Chad
Ben, Craig
Chelsea, Britany, Bradley
Dylan, Lukas

So
all of these Culvers
spawned and there's us.
Me, Jamey, Joel, Laura, Ben, Todd, Chad, Craig, Chelsea, Ben W., Bradley, Brittany, Dylan, and Lukas. I'm the oldest; the next grandchild wasn't until
Jamey
, nine years later. Susan and I used to pretend to throw his toys out the back of the station wagon, just to get him to cry. He never would.
There's a big batch of them finishing college, all the same age. I love watching them all hang out together at my grandparents lakehouse. Grandma feeds us junk food and we take the station wagon (she
still
drives a station wagon) for joyrides into Elkhart or Cassopolis. If you know these "cities" you know how funny that is.
They are
all
brilliant.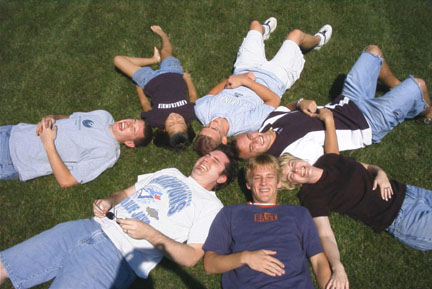 Summer 2001
Jamey, Chelsea, Ben, Chad, Me, Craig, Sean